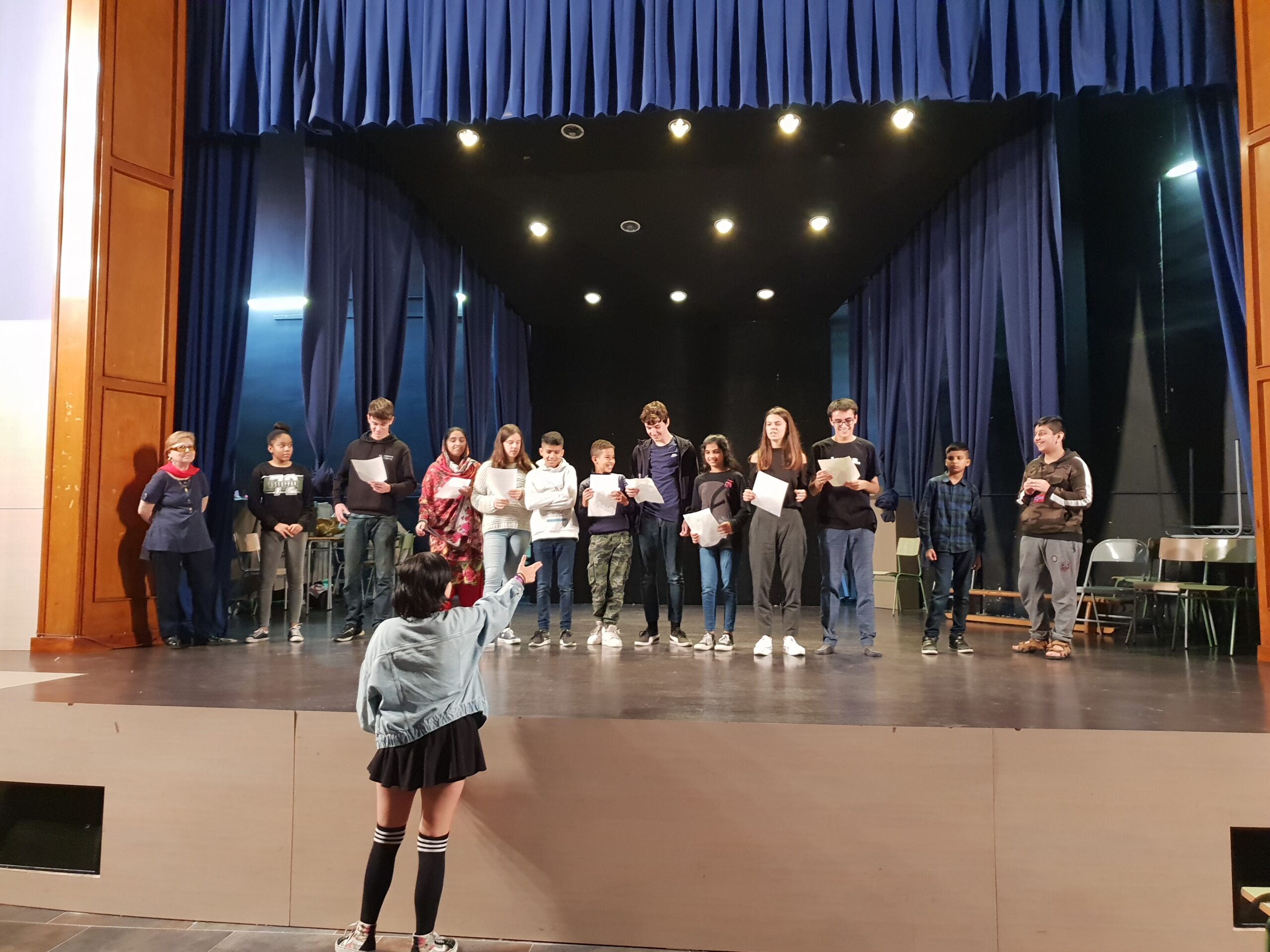 Almost a question
Note: This piece was not premiered, as it was cancelled on the day of the dress rehearsal because of the confinement due to the COVID 19 pandemic. Instead we created the video art piece Aquest llóc 2020.
PI(È)CE – INTERGENERATIONAL AND INTERCULTURAL COMMUNITY THEATRE PROJECT: For the ninth season we bring the stage to the students of the reception classroom of the Milà i Fontanals Institute, located right next to the Tantarantana Theatre. Through processes of improvisation, exchange and listening, the newly arrived students co-create a stage proposal together with a group of elderly people from the Raval and Sant Antoni neighbourhoods. The piece is based on the relationship between word and movement, is directed and accompanied by the choreographer Constanza Brnčić and the playwright Albert Tola, and will be performed over three days at the Tantarantana Theatre.
CHOREOGRAPHY AND DIRECTION
CONSTANZA BRNČIĆ
DRAMATURGY AND TEXTS (OWN AND FROM THE PARTICIPANTS)
ALBERT TOLA
ASSISTANT DIRECTOR
BEATRIZ MAGADÁN
MUSIC
IGOR STRAVINSKI (FIREBIRD)
LIGHTS
CONSTANZA BRNČIĆ AND JORDI PUIG
PRODUCTION
JULIO ÁLVAREZ, TEATRO TANTARANTANA
CO-CREATION
STUDENTS OF LINGUISTIC REINFORCEMENT
BAYOUD, MOHAMED
QAMAR, MARYAM
RAZZAQ, ABUBAKAR
SUBHANI, MURTAZA
AHMED, HUSNAIN
RECIO CUEVAS, FRANCHESKA
SHAHID, RUMESA
BACCALAUREATE STUDENTS IN PERFORMING ARTS
BALLESTER, ISAAC
CASALS, NIL
ANA LAURA, CASTRO
CID, AROA
GARCÍA, ALBA (CHARLOTTE)
GONZÁLEZ, POL
IRIARTE, JULIETA
JIMÉNEZ, XABIER
LÓPEZ, COME
RÍOS, SARA
ROSADO, ÁNGELA
SERÉS, PAU
SURRIBAS, JANA
SUTIL, CORA
TUDELA, GEMMA
BIG PEOPLE:
JULIETTA ORTIZ
PAQUITA MENARGUEZ
ADELAIDA SANTIRO
AVELINA TEIXEIRA
JULIO ALVAREZ
What worries us? What worries this year's teenagers from the reception classroom and the artistic baccalaureate of the Institut Milà i Fontanals of the Raval neightborhood? What worries are really ours? Which ones do we make our own, whether we know it or not? Is there an answer to these questions? What do we do with ourselves when there are no answers? On this occasion, the listening process has converged in Gairabé una pregunta, a show about our concerns; the official ones, and the others, the almost invisible concerns, the most intimate ones, which emerge slowly, at unexpected moments.